6/18/2017
Sam – just a note to thank you for your efforts in selling our home. Your dedication, professionalism and unparalleled, immediate personal attention made the process feel so effortless for Laurie and me. We have contributed to too many real estate agents personal finances over the years as we lived in and sold 23 homes. And after retiring I worked part time for five years as a personal assistant/photographer for the owners of an independent real estate company who are members of Luxury Portfolio International, Leading Real Estate Companies of the World and Who's Who in Luxury Real Estate. So our experience in selling our homes and me experiencing the day to day real estate operations with over 100 agents, I must say we that have never experienced or seen the dedication given by a selling agent more than you gave to us. With firm conviction, I would highly recommend you to anyone who is considering selling their home. Great job, well done Sam!
Al Hollis
Posted on June 24, 2017 at 10:29 pm
Sam Inman
Category:
Testimonials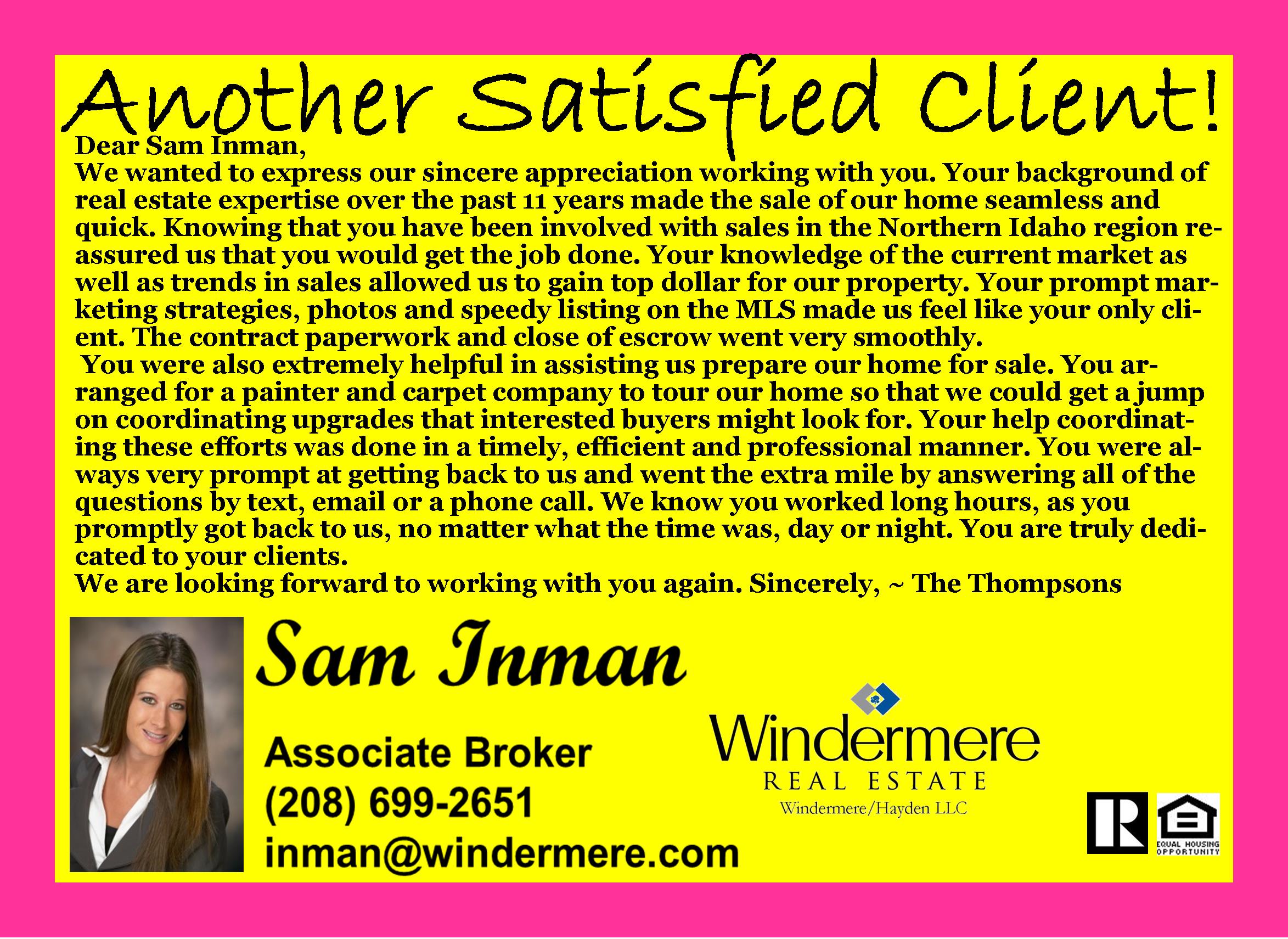 February 21st, 2017
My name is Debra and I was referred to Sam Inman to list my home in Post Falls, Idaho. It was a very stressful time in my life but she was great. She came to my home and took listing. Before it even hit the MLS I had a showing. She scheduled a photographer to take pictures and my home sold in one day. I was very impressed because I was expecting it to take at least a month to sell.. Needless to say I had to pack in a hurry. She is excellent to work with and kept me posted on everything that was happening. I would recommend anyone trying to sell or buy a home to try her out. I can not thank her enough for the excellent work.
Very happy,
Debra Tatom
February 21st, 2017
When my husband and I decided to sell our home,we knew we needed not just a real estate agent, but a true professional with experience. We had a house with property that we realized would require the exposure to attract the right buyer. After meeting Sam Inman we knew she was definitely up to the task. She was relentless in advertising our home, which exposed it to the masses, until the right buyer found it. When there were bumps in the road, which there always are with buying and selling, Sam handled it all like the professional she is. What was very important to us as well was her honesty, not only with us but with the other agents clients. After closing on our home, she never gave up until we were in the exact location we wanted to be. I will always recommend Sam, given the opportunity, because of the trust I have in her as a real estate agent.
~Joe and Denise Archambault
February 20th, 2017
Sam Inman sold my home in Post Falls and I have worked with many agents and sold many homes over the years. This was by far the most pleasant experience. I felt confident that I got excellent market exposure for my home. Sam kept me informed about the progress, updating me on showings and feedback and when it did sell she was very helpful in reviewing the purchase offer. Sam responded quickly to my questions and even when she took a brief vacation she made sure someone covered for her. I highly recommend Sam as a selling agent.
~Sue O.
Posted on February 23, 2017 at 5:56 am
Sam Inman
Category:
Testimonials